Mobile Banking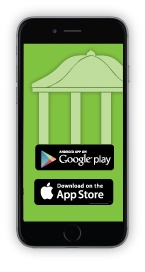 Technology has made it easier than ever to bank on the go! No matter if you're standing in line at the convenience store, or sitting through your niece's ballet recital…you can access your accounts from anywhere using an internet-enabled device with Mobile Banking from Front Royal FCU. With mobile banking you can:
View account balances
Transfer funds between accounts
Make a deposit
Monitor transactions
PLEASE NOTE: Our old mobile app will be archived so you must download the NEW and improved app in your device's app store. Download the app today to ensure there isn't any interruption in accessing your accounts!
Introducing Mobile Deposit Make a deposit from your phone in 3 easy steps:
Log into the mobile app
Take a photo with your phone
Type in the amount, choose the account and submit
To apply for mobile deposit, simply log in to Home Banking , enter User ID and password, select remote deposit enrollment and click on the agree button. After submission you will be notified via email or direct mail of your approval status. If approved the feature will be activated for use in the mobile app. For detailed instructions on how to enroll, click here.