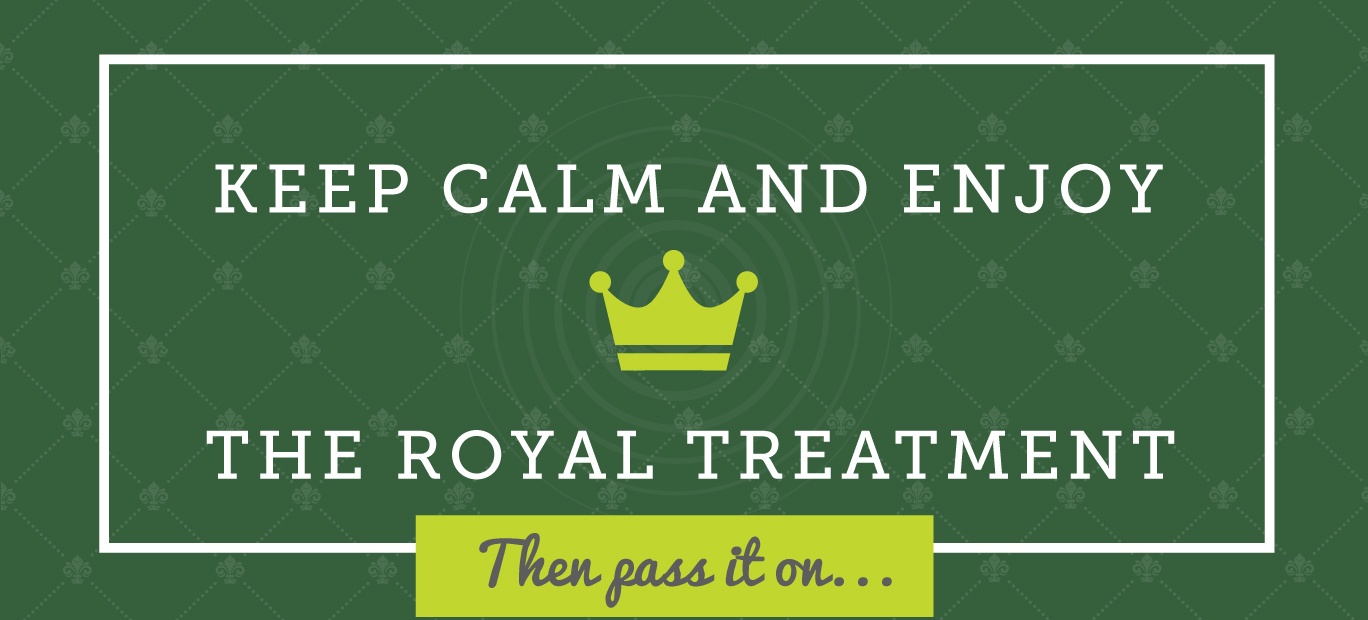 Give the Royal Treatment
Enjoy the royal treatment when you finance your car, boat, motorcycle, or RV at Front Royal and receive $10 cash to make a difference in your community.
How would you make your community a little brighter with just $10? Purchase $10 worth of canned goods to donate? Give $10 in school supplies to a child in need? Slip some extra quarters in the vending machine? Pay for their lunch. Bring donuts to work. Make an impact. Then, share how you paid it forward on our Facebook page at facebook.com/FRFCU and be entered to win $500 cash – $250 for you and $250 to make your community better. Contact us today to learn more about this special offer, or apply for your new ride online and get started! 
---
12 Good Deeds you can do with $10.00 or less! 
Bake cookies for your friends, family or strangers
 Pay the toll for the car behind you.
Bring in a dozen donuts for people at your office or workplace.
Make and deliver care kits for the homeless
Buy your friend a small treat when they've had a hard day
Add an extra $10 tip next time you go out to eat
Donate canned goods to your local food bank
Buy a pack of water bottles and hand them out on a hot day at a park
Pay for your friend's lunch next time you're out
Donate to a charity
Leave extra quarters at a vending machine
Pay for the person behind you at a fast food drive thru
---
Want to learn more about credit unions? 
Top 10 Credit Union Benefits for Millennials  Want to Save More Money? Join a Credit Union
---
What people say: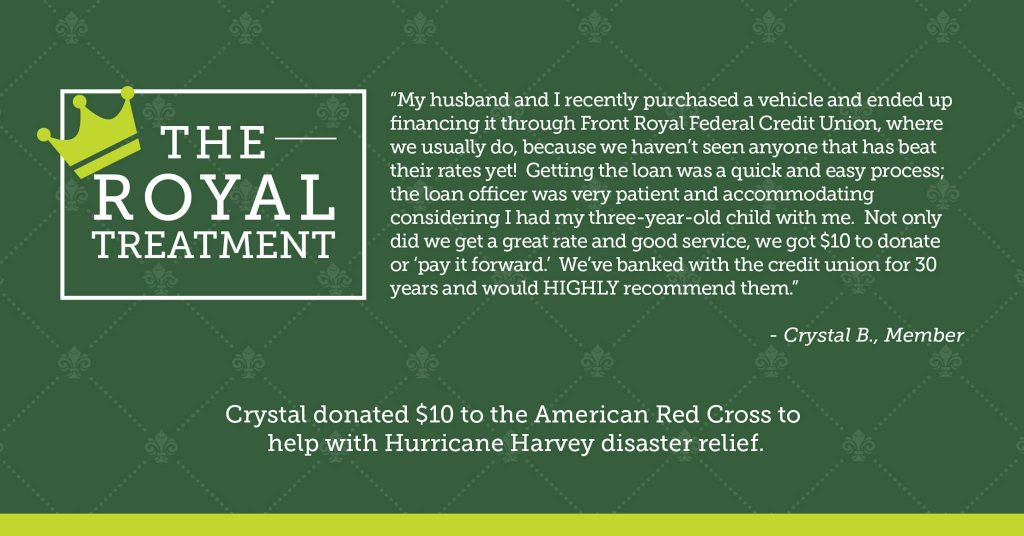 I love the ladies that work there they are always friendly and make me happy to be a member at the bank I've never had any problems dealing there. -Morgan Drummonds
Been a member since April of last year. I love it. -Brittany Jenkins
Front Royal Federal Credit Union is the best. We've had our account here for thirty years. Check em out, you'll be glad you did!! Joann Slayton
I have been with this bank since I was a teen and I really like the atmosphere and family feel that is giving. I wouldnt go anywhere else for banking needs.
-Tamia Edwards
---
Membership required. NO PURCHASE NECESSARY. Automatic entry with loan closing once you've posted to Facebook. You may send a 3 x 5″ card with name, address, and phone number addressed to Pay It Forward, P.O. Box 1470, Front Royal, VA 22630. Winner will be drawn on or before January 6th, 2018 and will be notified by phone, Facebook message or email. Offer ends December 31, 2017. See credit union for official contest rules and details.