5 Things To Consider Before Purchasing a Boat, Motorcycle, or RV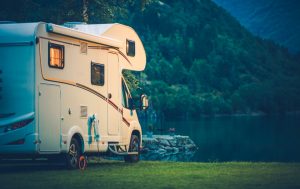 You've made up your mind to make this the "summer of fun" and are considering buying a boat, motorcycle, or RV – congratulations! Before you hit the open road or open water with your new toy, here are 5 things to consider before making the big purchase:
1. How much will you use it? If you're only planning on road tripping or boating a few times a year, it may make more sense financially to buy used, or even rent as an alternative.
2. How much can you afford? Take a good look at your monthly budget to determine what you can afford in terms of a monthly payment. Remember to include other costs like maintenance, insurance, gas, etc.
3. Do you have a place to keep it? Determine where you will store your new ride – either in a garage or driveway – and what kind of upkeep is needed for each option. You may even need to use a storage facility to keep your joy ride safe and secure, depending on what your space situation is at home.
4. Do you have the resources for regular upkeep? See "thing to consider #2!" The expense of this type of vehicle goes beyond a monthly loan payment. Extra costs include items like detailing, safety items, registration, and navigation equipment.
5. If you're considering used, how is the condition of the vehicle? Make sure to consider the seller, body condition, mileage, and any drivability issues that pop up during the test drive.
If you can't stop daydreaming about summer adventures, don't forget your credit union is here to help finance your new ride. For a limited time, our "Choose How You Cruise" special lets you borrow at a great low rate and automatically enters you into a drawing for a $250 gift card to trick out your ride however you choose. You can enjoy no payments for the first 45 days! Click here to apply online or stop by or call your nearest branch.
Loans currently financed at the credit union do not qualify for this promotion. Ask a loan processor for your qualifying rate. Membership eligibility is required. Promotion valid May 15 through August 31, 2017. NO PURCHASE NECESSARY. Automatic entry with loan closing. You may also send a 3 x 5″ card with name, address, and phone number addressed to Toy Sale Give-away, P.O. Box 1470, Front Royal, VA 22630. The winner will be selected before September 15 and notified by the phone number listed on account. For more details and official rules, contact the credit union.
Posted by Liz Garster in Loans.